---
Feel'n Frisky? The Green Spot offers you access to our Self-Serve Dog Wash areas to tackle the grooming job on your own at an affordable price. We provide waist high tubs (no more bending down to wrestle the dog in the shower at home or hosing in the yard), all natural shampoo selection, aprons, brushes, fresh towels and a high speed blow dryer. The best part? We take care of the clean-up afterwards! Sounds easy enough right? Appointments are first come, first serve and are open during normal business hours Mon-Sat 10-8 and Sundays 11-5. Last wash is 1 hour before closing.
WHAT'S INCLUDED?
| | | | |
| --- | --- | --- | --- |
| Waist High Tubs & Safety Restraints | Hi-Speed Blow Dryer | A Selection of All Natural Shampoos | Oatmeal & Aloe |
| Mango Tango | Creme Rinse Conditioner | Puppy | Hypo-Allergenic |
| Eucalyptus & Peppermint | Orange Peel Oil | Light Color Coat Brightener | Fresh Aprons, Towels & Tools |

ALL FOR JUST $15!
A LA CARTE GROOMING SERVICES:

The following are available upon request when a groomer is available:
| | | | |
| --- | --- | --- | --- |
| Nail Trimming = $15 | Nail Grinding = $20 | Nail Painting = $10 | Pup Pedicure = $25 (Nail Grind & Paw Pad Trim) |
| Paw Friction Application = $20 | Paw Protection Balm Application =$10 | Teeth Brushing = $10 | Ear Cleaning = $10 |
| Sanitary Trim = $10 & up | Paw Pad Trim = $10 & up | Face/Eye Trim = $10 & up | De-Shed Treatment = $10 |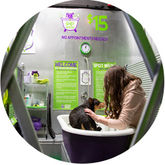 TIPS & TRICKS
No matter the breed, we advise a thorough brushing before you begin the bathing process. For active dogs, a vigorous exercise session is encouraged before bathing. A tired dog is a good dog!
To prevent ear infections, we recommend gently placing a cotton ball in the opening of your dogs' ear canal to prevent water from entering.
Shampoos are concentrated so a little goes a long way. Please avoid using excessive amounts of shampoo when bathing your dog.
When using the force-air dryer, do not point the nozzle at your dog's ears, eyes, nose or any sensitive areas. For long or curly coated dogs, make sure they are as dry as possible before leaving to avoid matting.
A regular grooming schedule is encouraged - visit our Spot Wash monthly to ensure your dog stays clean and healthy. Or, try our Full-Service Grooming and give yourself a break!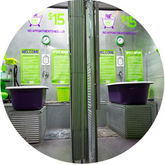 SPOT WASH POLICIES
Please keep your dog on a leash, in a carrier, or in your arms at all times. You are responsible to supervise your own pet.
Spot Wash is open during normal business hours on a first-come-first-serve basis. The last wash begins one hour before closing. As a courtesy to fellow bathers, please limit your Spot Wash time to a maximum of 45 minutes start to finish.
You must be 18 years of age or older to use Spot Wash. Children are always welcome but must be supervised by an adult at all times.
Disruptive and/or aggressive dogs may be asked to leave and schedule a private wash during off-peak hours.
NO FLEAS or TICKS! We are a flea/tick-free zone! If you notice fleas or ticks during your spot wash, please alert our staff IMMEDIATELY!
And finally.. messes happen! If your dog has an accident, please alert our staff so we can help clean it up.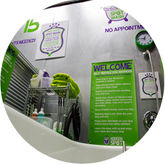 SPOT WASH SPECIALS
FOSTER DOGS: Use our Spot Wash for NO CHARGE when bathing Foster Dogs on weekdays between 10am-4pm!
NEWLY ADOPTED DOGS: Show us your recent (within 2 months) adoption paperwork and get their first Spot Wash FREE!
FREQUENT BATHER PROGRAM: Earn a FREE Spot Wash for every 6 you purchase! Make sure you join our free Bonus Bones program to keep track of your bath purchases!
SPOT WASH PASS = $40- Unlimited Spot Washes valid for 30 days from purchase
What Omaha Customers are Saying
We love all our customers near Gilmore, Rumsey, Gilmore Junction, Council Bluffs, Papillion, Avery, Portal, La Vista, Ralston, Millard, South Omaha, Omaha, East Omaha, Carter Lake, Garden Valley Courts, Irvington, Beechwood - and more!
Come visit our pet supply store in Omaha, NE specializing in quality food, treats, and supplies for cats and dogs.