Dental health is present in all of our dog and cats' lives. Sometimes it can be easy to forget about, so we want to highlight dental health during National Pet Dental Health Month! No matter where your cat or dog's dental health is, we are sure to have some helpful products or tips for you!
Why Dental Health is Important
Dental health is essential to the health of your pet's entire body! Dental disease can affect organ health throughout your dog or cat's system. In addition, dental disease can be painful and cause infections. Chewing is also essential for your pet's mental health; this activity is naturally stress-reducing.
Chews
Chewing is an instinctual need, and as a bonus, chewing is self-soothing for dogs and cats. There are chews for every dog and cat. Yes, even for cats! Every pet has different chewing needs, and the best way to find the right chew(s) for your pet is to stop into The Green Spot and talk to a team member. Here we'll talk about some chew basics, picking a natural chew for your pet, and attributes for some of our most popular chews.
Chews for Puppies - Just like our adult dogs, puppies' chewing needs vary, especially by developmental stage and size of the puppy. One of the best things to do for your pup is to try many different chews. This will expose your dog to different textures, proteins, and tastes early on. Some favorite chews for puppies include gullet sticks, bully sticks, raw necks, raw meaty bones (for larger pups), beef cheeks, cow ears, and freeze-dried chews. We even offer a puppy starter pack of chews with several different chews to try!
Chews for Senior Dogs - Senior dogs need and enjoy chews, too! Many senior dogs' teeth are more sensitive and less sturdy than when they were younger, and the dog may appreciate a softer chew. Raw necks (chicken, duck, or turkey, depending on the size of your dog) are our go-to for our senior dogs! Raw necks are EXCELLENT at cleaning teeth and are soft enough to make chewing easier for our older pups. Other good senior chews include freeze-dried chews, gullet sticks, and tremendas.
Chews for Hard Chewing Dogs - Finding the perfect chew(s) for your hard chewer is a little more complicated. Every dog is different, and what works well for one dog may not be the right fit for another. For example, antlers are by far the hardest chew we offer, but we don't suggest them for all dogs.... why is that? For extreme chewers, an antler carries some risk of being too rigid and hurting your dog's teeth. Other long-lasting chews like a beef cheek or raw meaty bone may be a better fit for your hard chewer, even if the chew doesn't last quite as long (as an antler would).
Chews for Cats - Many cats love to chew too, and it's a great way to clean teeth and keep them clean! Some of our staff cats' favorite chews are gullet sticks, freeze-dried chews, raw necks, and duck hearts.
Pets with Few Teeth - Has your pet lost most of its teeth due to genetics, disease, or previous neglect (for rescued animals)? Your dog or cat may still enjoy the activity of chewing, as it's instinctual. Freeze-dried necks are a perfect type of softer (and meaty!) chew for our pets with few teeth.
Brushing
If your cat or dog will tolerate you brushing their teeth, brushing is a great way to help remove plaque and keep teeth clean! At The Green Spot, we offer toothpaste safe for cats, dogs, and even a few options safe for both cats and dogs.
Supplements
Do you want to supplement brushing and chewing? Sometimes it's necessary if you have a pet unwilling to have its teeth brushed or adopt a pet with low to no teeth due to previous neglect. In those cases, powder and liquid dental supplements are the way to go! Supplements are added to water or food and help clean teeth and keep teeth clean.
One of the supplements we like is PlaqueOff. Check out why: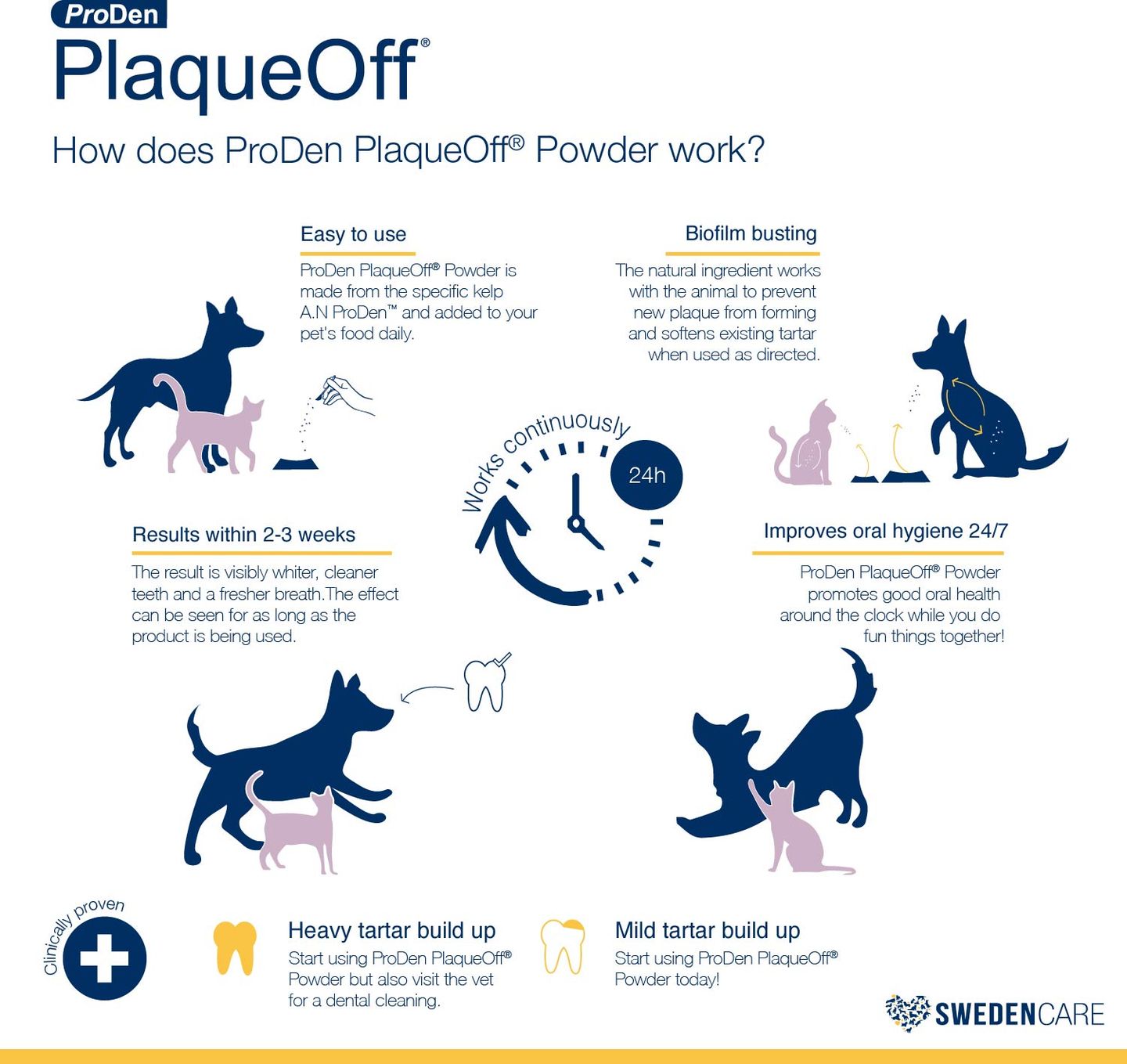 Veterinary Dental Cleanings
How do you know when your dog needs a veterinary dental cleaning? In short, consider a dental cleaning when recommended by your veterinarian. Chews and tooth brushing can do WONDERS for cleaning up plaque and tartar buildup and KEEPING teeth clean. A dental cleaning can give you a fresh start for keeping teeth clean.
Questions about keeping your cat or dog's teeth clean? Talk to one of our team members or shop dental health today!